One of my clothing staples has to be the silk shirt. According to some eczema sites, silk isn't the best material as it requires hand-washing, which means you can't kill off any build up of skin residue with hot water washes. This site also informs us that silk production contains sericin, which is apparently a known irritant. However, although I do obsessively check labels of clothing for that all important tagline '100% cotton', I prefer to wear silk clothing when dressing up a little, as it is a nicer material to wear in the evenings.
Enter the silk shirt. The smoothness of silk doesn't irritate my skin, like viscose or polyester, and hangs so well on the body. Teamed with black jeans and heels or boots, the silk shirt is my go to outfit for when I need to adhere to the tricky boundaries of 'smart-casual'.
Although not within my budget quite yet, I obsess over the Equipment silk shirts. Love this orange pop of colour! They can be found on the Net-a-porter site, with the block colour shirts starting from

£230.
I am also lusting over this pyjama set as well. Sadly, it is quite far out of my budget, although one can always dream!
However, a great affordable option is Massimo Dutti, my new favourite brand. It mixes high-street prices with good quality materials such as silk and cotton, a must for any eczema sufferer! The website currently has a sale on, so get over there before it all sells out. I love the caramel tone of this one, and at

£

29.95 it's the fraction of the price.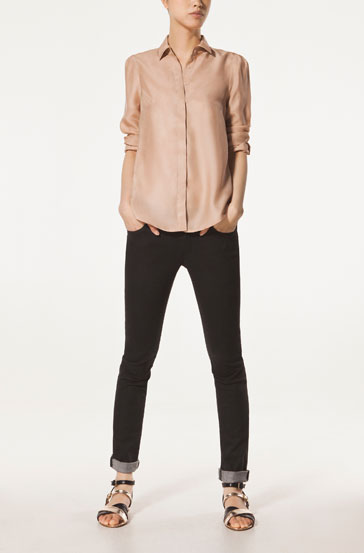 Perfect for the warm summer evenings....